Regular price
Was
Sale price

$49.95
Unit price
per
Out of Stock
Get your daily dose of Glow! OxyGlow is a natural marine collagen with essential collagen-boosting vitamins for youthful skin, healthy hair and strong nails.
How do subscriptions work?

Never have to think about reordering

Stay stocked with your favorite products

Edit your subscription anytime

Edit products, delivery schedule and more

Cancel when you want to

Easily cancel, no questions asked
Description

We created OxyGlow to help you RADIATE the best version of you, from the inside out!

Directions

1 scoop per day contains all you need for that radiance - simply add to OxyShred, water, juices, smoothies or even cooking.
FAQs

What is OxyGlow?

Collagen is the most abundant protein in the body and the building block of skin, hair, nails and joints. However, as we age, collagen production starts to slow down and we can struggle to obtain enough from our diet.




OxyGlow contains marine collagen and the essential collagen-enhancing vitamins which work synergistically to enhance your beauty from the inside out, creating smooth, firm, and plump skin. This beauty powder taken daily stimulates natural collagen production to increase skin hydration, firmness and smoothness, improve overall skin complexion and strengthen hair and nails.




Is it a replacement for wholefoods?




We suggest that you take OxyGlow in conjunction with a balanced, healthy diet.




Why did we make OxyGlow?




Collagen is the most abundant protein in the body and the building block of skin, hair, nails and joints - one-quarter to one-third of all the protein in the body is collagen protein. We made Oxyglow to help our community add this vital supplement to their routines and enjoy smooth and glowing youthful skin, healthy hair and strong nails.




Who should take it?




Collagen peptides have scientifically proven benefits for health, wellness and beauty and offer superior functionalities for those who want to remain healthy and active throughout their lives. We created Oxyglow to provide a collagen supplement with added vitamins to our community so they can enjoy these benefits and make their health and wellness journey even more holistic.




Why should you take OxyGlow vs other collagen powders?




Oxyglow is different from other collagen powders because it contains highly bioavailable marine collagen as well as a full spectrum of collagen-enhancing vitamins to create smooth, firm, and plump skin. Your skin will be glowing, your nails will be growing, and your hair will be stronger than ever before. Oxyglow also contains marine collagen derived from fish peptides sourced from 100% fish skin and scales that would otherwise be discarded, making Oxyglow sourcing sustainable.




Oxyglow is also rapidly absorbed as it uses fish which is a superior alternative to bovine, porcine and chicken. Our collagen is characterized by its low molecular weight, resulting in improved digestibility and superb bioavailability. Our product is the result of a complex and controlled hydrolysis process to obtain premium collagen peptides that are highly soluble.




What are the ingredients in OxyGlow?




Marine Collagen: Sustainably sourced, natural marine collagen derived from hydrolysed fish peptides for high absorption. It is also over 97% protein, carb and fat-free to help you with protein enrichment in your diet.




Vit B: necessary for the reproduction of cells throughout your body, including your skin cells. It is known to reduce skin cell inflammation and dryness.




Vit C: an antioxidant that supports collagen formation, neutralises free radicals, supports your skin's natural regeneration system, reduces wrinkles and helps with uneven or dull skin tone.




Vit D3: has oxidative properties that help prevent premature signs of aging on your skin.




Vit A: essential for firm, strong, healthy skin. It helps with acne outbreaks, sun damage, and slows aging by stimulating skin cells and gives a healthy, glowing complexion.




Vit K: collagen-promoting and wound-healing properties which promotes a smoother, more youthful glow.




How do all the ingredients work together?




The ingredients work synergistically together to boost collagen production, enhance skin cell regeneration and support health of hair, skin, and nails.




Marine collagen peptides work together with Vitamin C to promote collagen synthesis, as Vitamin C is required for collagen formation to occur.




Vitamin A and C work together to exert powerful defence against free radical damage. Both nutrients are antioxidants that protect the skin from cellular damage and promote cellular renewal for a healthy radiant glow.




Vitamin D and Vitamin K are both fat-soluble vitamins that are known to have a strong synergistic relationship. Together, both vitamins work to reduce inflammation and enhance skin quality for a youthful appearance.




Vitamin B12 works in conjunction with all the other vitamins in this formula to enhance cellular regeneration, boost hair growth and strengthen nails.




What does it taste like?




Oxyglow is virtually tasteless and odorless, allowing it to be easily added to food, beverages, smoothies, rolled into bliss balls or even added to cooking/baking.




What are the benefits of OxyGlow?




Reduces visible signs of ageing
Reduces appearance of fine lines, increase skin elasticity, firmness & hydration of skin.
Strengthens and accelerates growth of nails & hair.
Assists with recovery after injury.
Improves strength of joints & bones.
Improves muscle mass
Antioxidants to reduce free radical damage
Vitamin B12 to assist with energy levels




Where is OxyGlow sourced from?




OxyGlow Marine Fish Collagen is sustainably sourced from North America.




What is the serving size and how long will the tub last?




The serving size is 1 scoop (2.5g) and the tub is 30 serves.




What is the difference between OxyGlow and Blessed Booster Skin Glow?




OxyGlow contains marine fish collagen and is suitable for people with no dietary restrictions or pescatarians. Blessed Booster Skin Glow is suitable for vegans and will help promote production of collagen in the body without containing any animal products. It contains collagen precursors, but not collagen per se. It is also a different format, i.e. capsules whereas Oxyglow is a powder. OxyGlow and Blessed Booster Skin Glow can be stacked together for enhanced results.




What is the difference between OxyGlow and EHPlabs Skin Firming? Skin Tight?


OxyGlow is a high dosed marine fish collagen product with collagen enhancing vitamins in a powder form. OxyGlow is suitable for men and women. OxyGlow is designed for anyone wanting to improve their appearance, and is suitable for any fitness goal.




Skin Tight is a capsule supplement designed specifically for men to be used in conjunction with a weight loss regime. Skin Tight also contains marine collagen however in a much smaller dosage.




Skin Firming is a capsule supplement designed specifically for women to be used for toning support and also in conjunction with a weight loss regime. Skin Firming also contains marine collagen however in a much smaller dosage.




Is it safe for pregnant and/or lactating mothers?




We advise checking with your health practitioner.




Can I take it with other EHPlabs products?




Yes! We advise taking this product mixed with OxyShred in the morning to create the perfect morning routine. You can also mix OxyGlow with OxyWhey, ISOPEPT, PRIDE, BEYOND BCAA, and Blessed Protein.



Ingredients


OxyGlow (30 serves)


Amount per serving


% RDI

Amount Per 100g
Energy
29kJ
<1%
1220kJ
Calories
7kcal


305kcal
Protein
1.8g
4%
75.9g

Total Fat

0g

0%

0.1g

Saturated Fat

0g

0%

0g

Carbohydrate

0g

0%

0g
Sugars
0g
0%
0g
Dietary Fibre
0g
0%
0g
Sodium
5mg
<1%
221mg
Potassium
0mg
0%
0mg
Vitamin C
441mg
690%
17.3g
Vitamin A
90 μg
10%
3754 μg
Vitamin K1
1.2

μg

2%
50

μg

Vitamin B12
0.2

μg

10%
8.3

μg

Vitamin D
0.03

μg

<1%
1

μg

* # Percentage daily intakes are based on an average adult diet of 8700 kJ.




Ingredients


Hydrolysed Fish Collagen, Ascorbic Acid (Vitamin C), Viitamin A Palmitate, Phytonadione (Vitamin K1), Vitamin B12, Vitamin D3.



View full details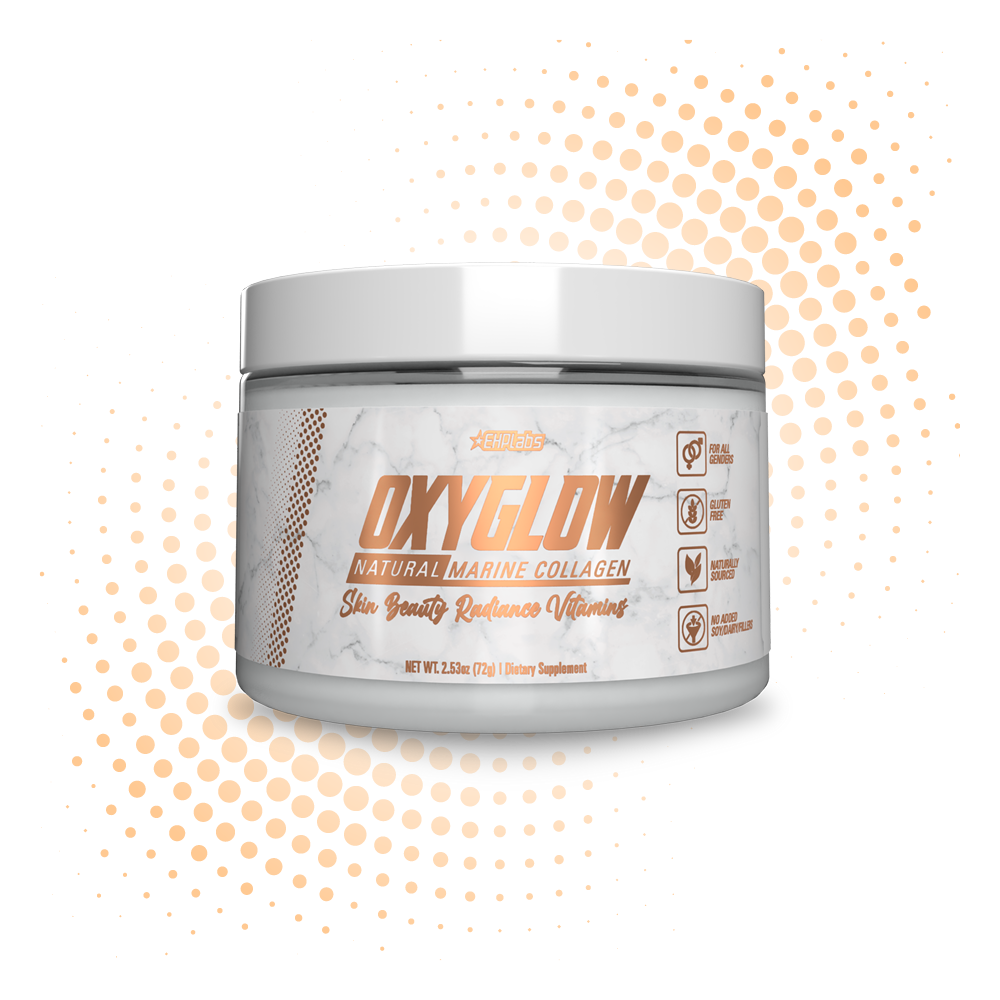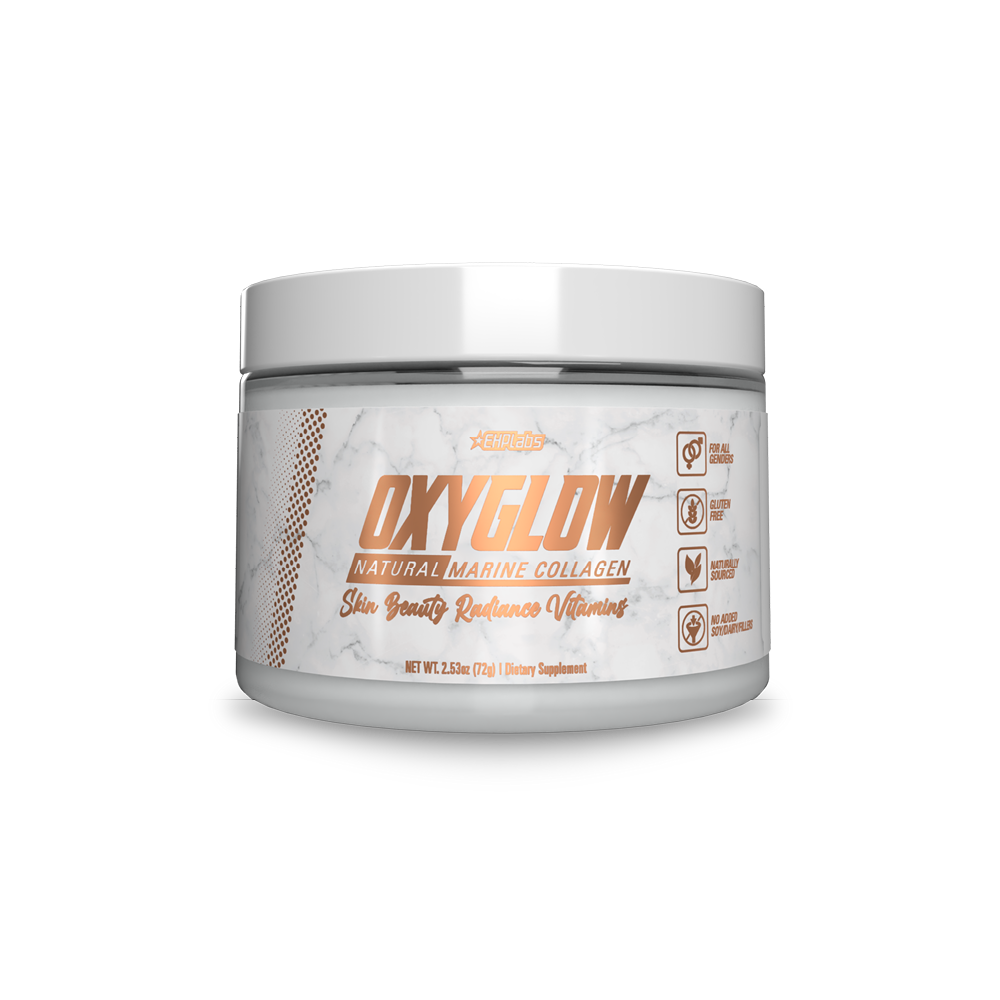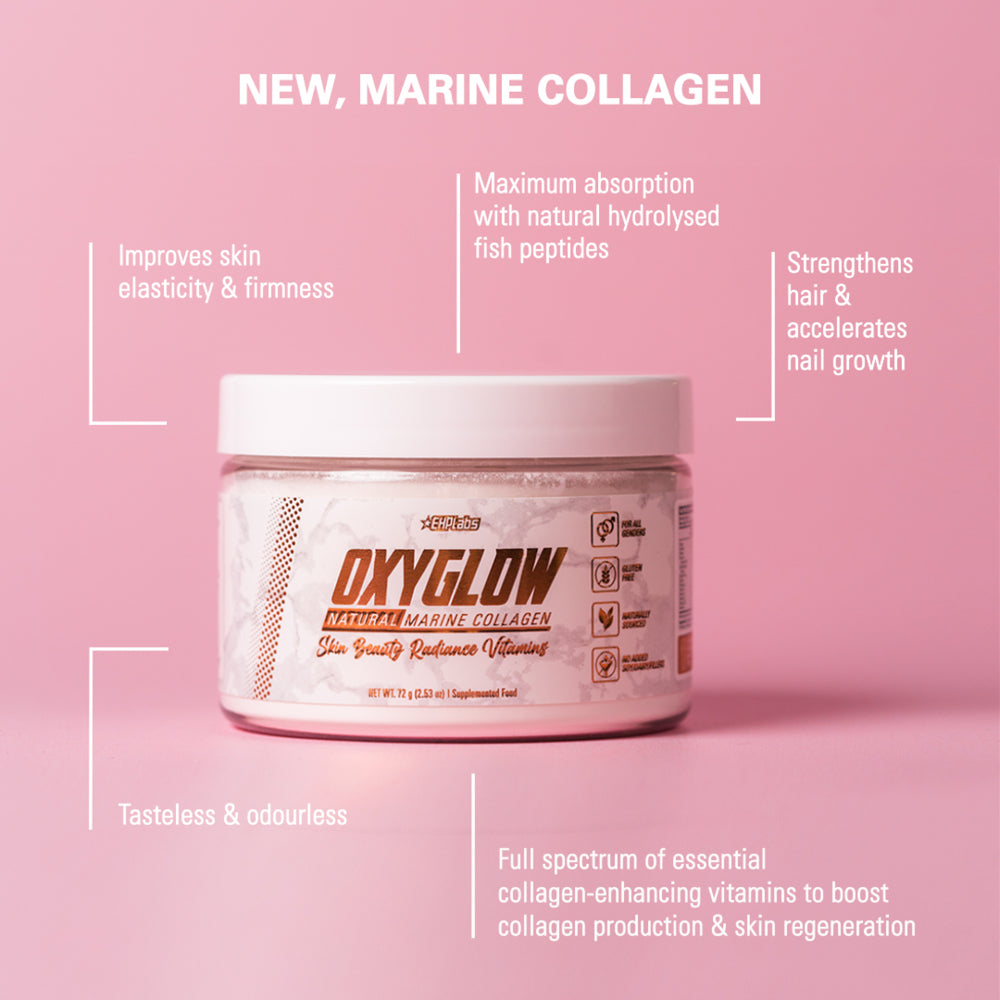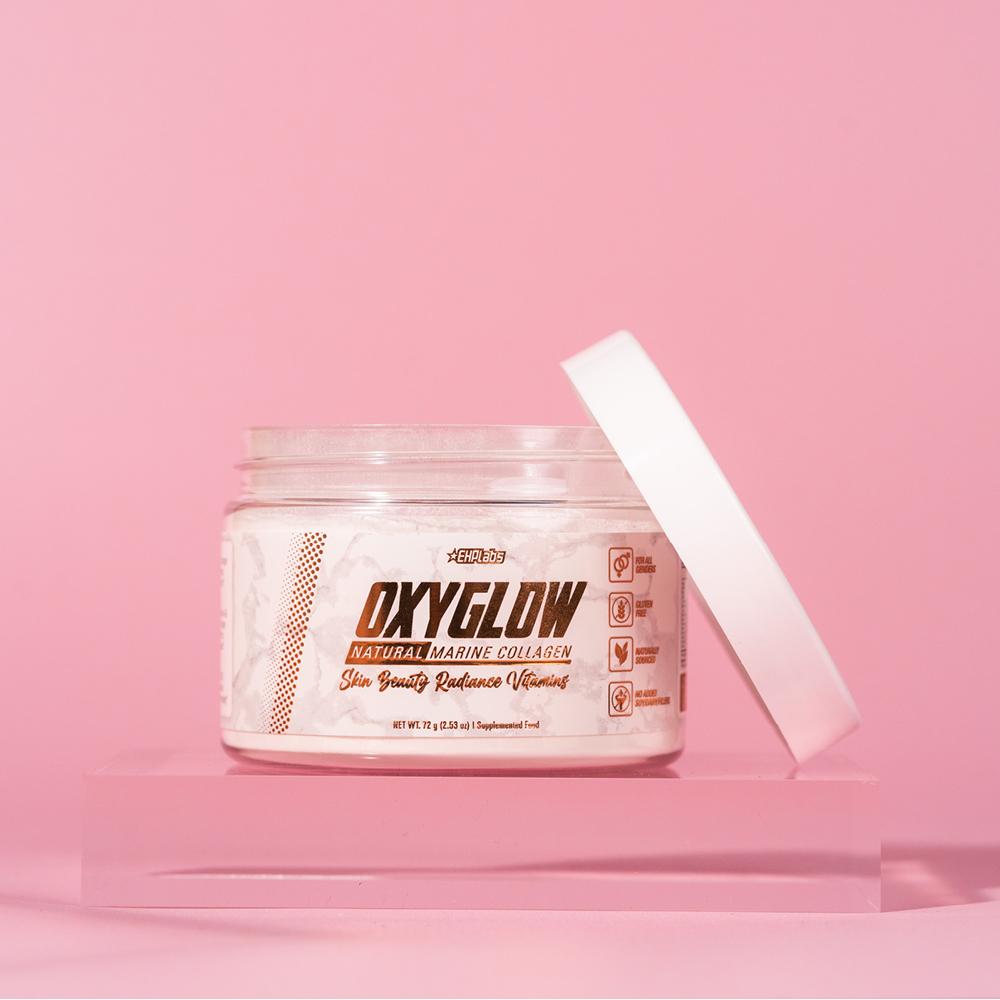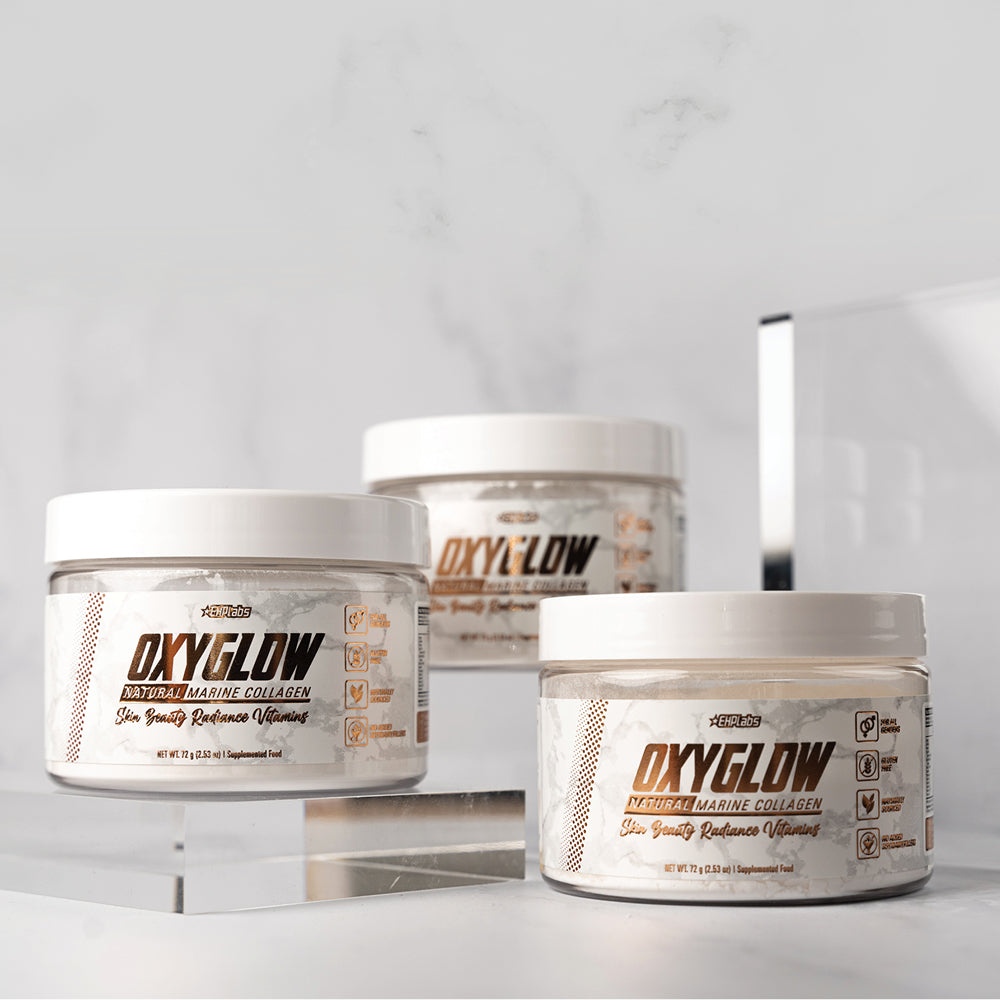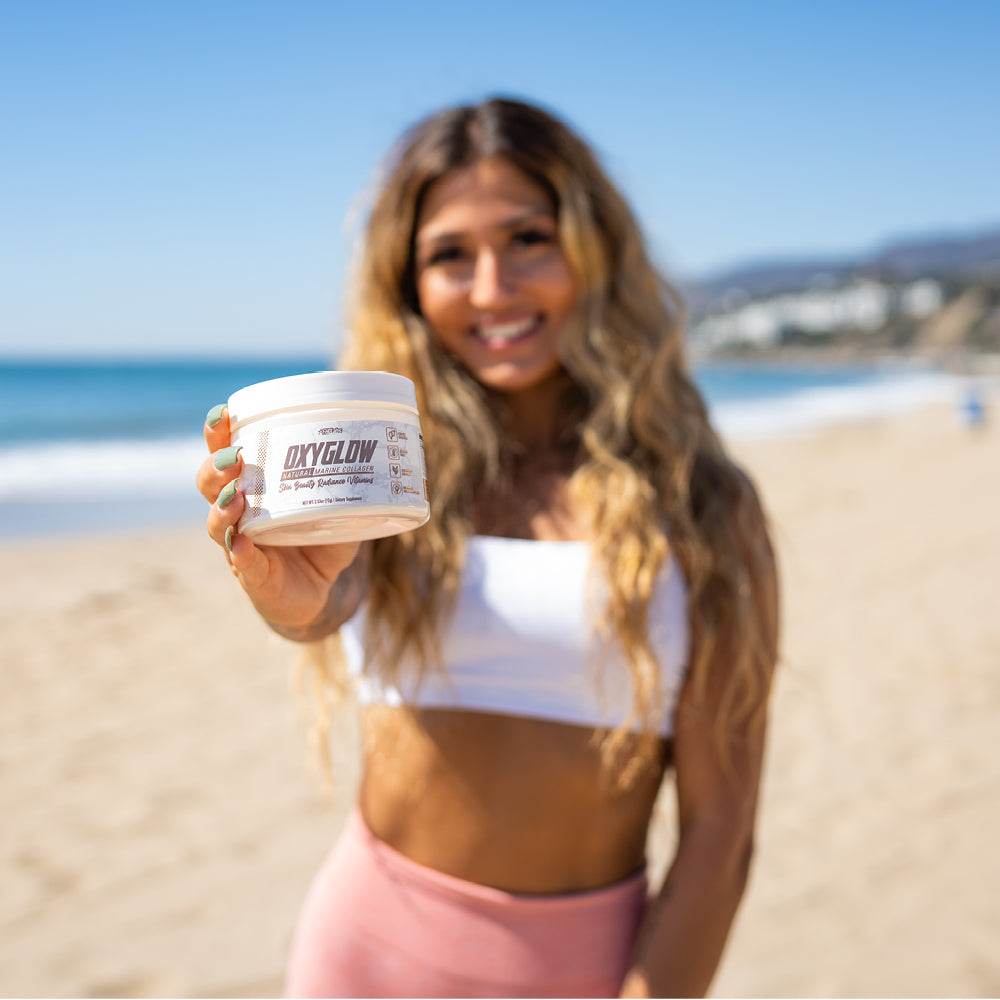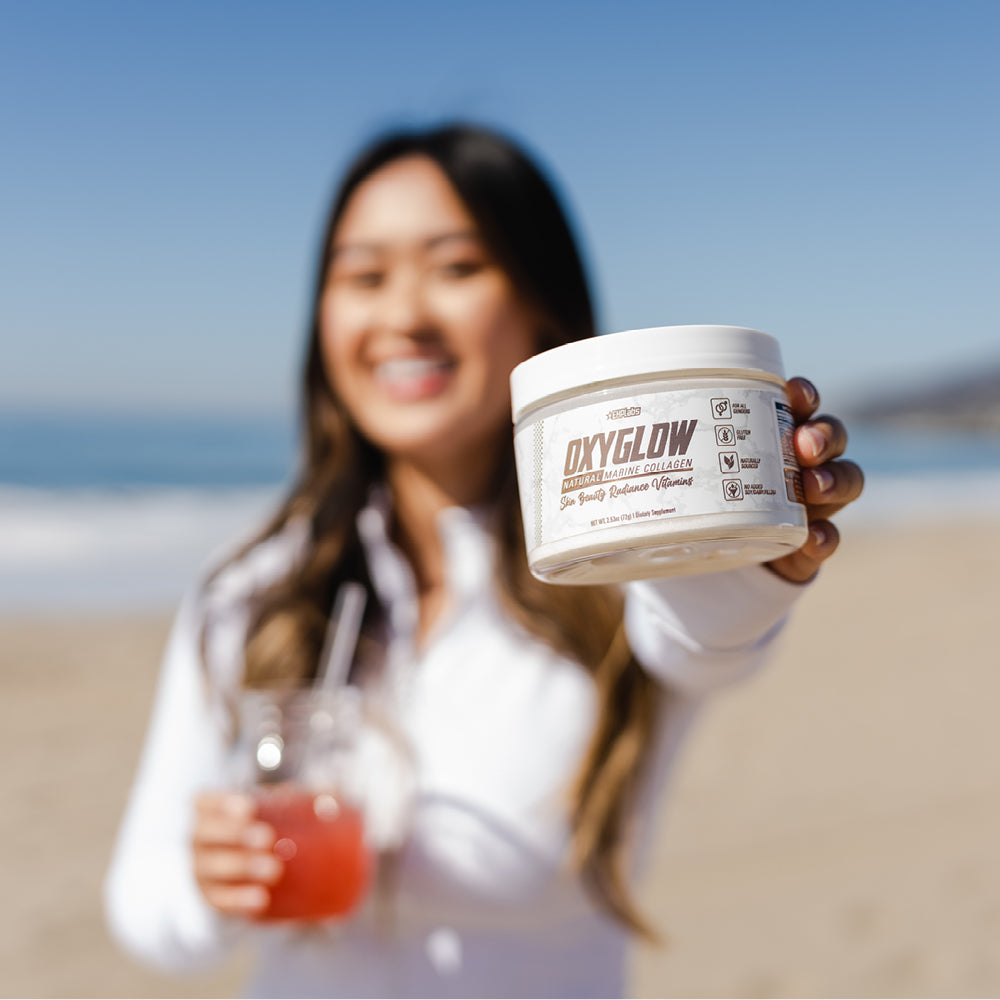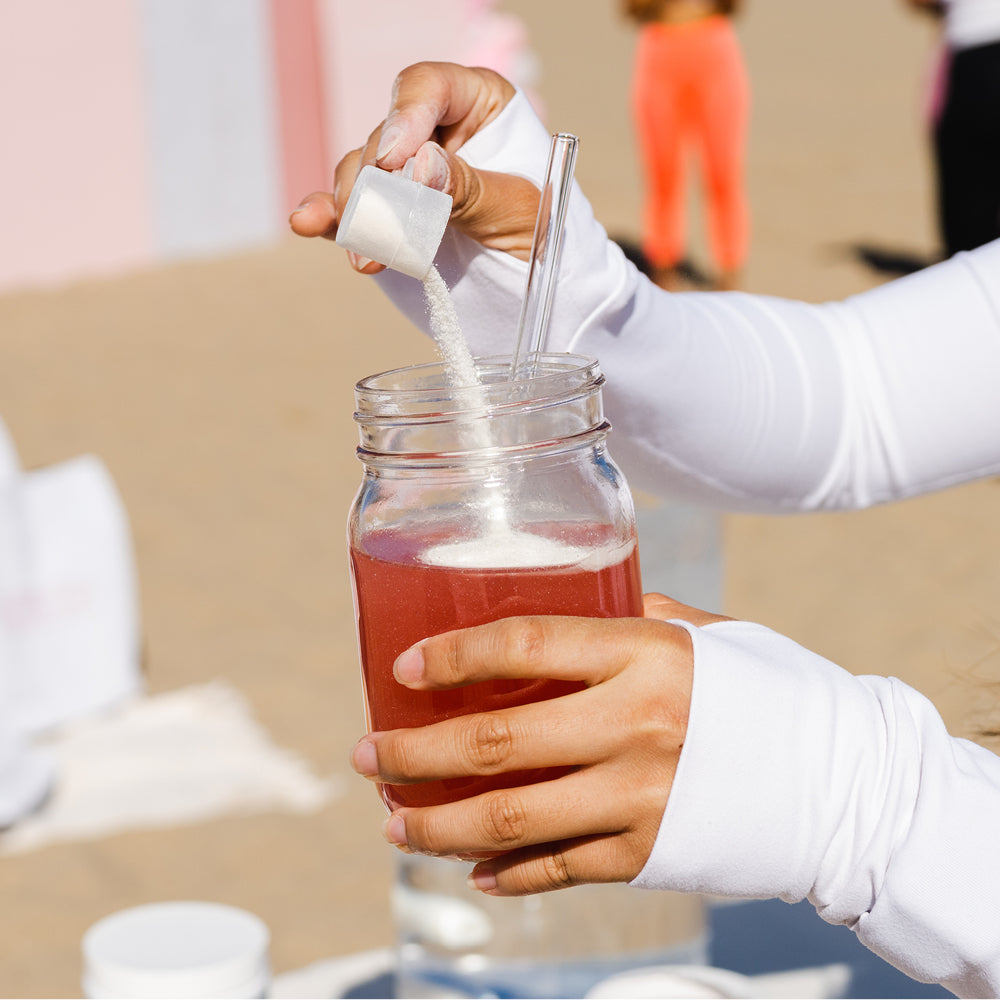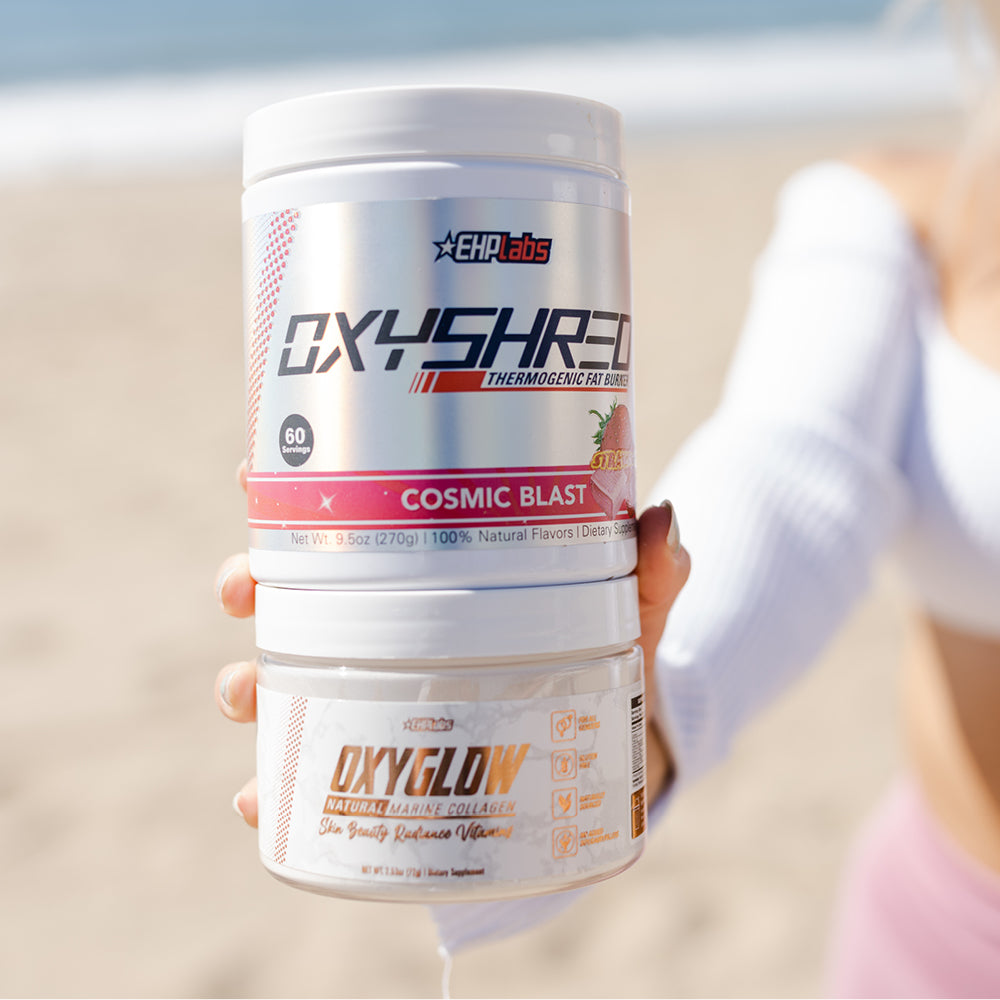 BLACK FRIDAY SALE BUNDLES
Shipping, Returns & Payment Info
Shipping Information

Shipping costs:

We offer FREE domestic shipping within the AUS for orders over $150. For orders under $150, shipping starts at just $9.95.

Need your order fast? We offer Express Shipping in AUS starting from $14.95.

Located in NZ? We have you covered with shipping rates starting from $14.95.

For a detailed breakdown of our shipping rates, please refer to our shipping policy page.

Order processing time:

Once we receive your order, our team will promptly pick, pack, and process it within 48 business hours*. You'll receive an email with your tracking details as soon as your order has been processed, so you can stay updated on its delivery.

Estimated delivery time:

Delivery times vary depending on your location. Here are some estimated delivery times for domestic orders within Australia

Standard Post: 2-8 business days
Express Post: 1-4 business days


Delivery to New Zealand is approximately 5-14 business days.

For a detailed breakdown of our delivery estimates, please refer to our shipping policy page.

With our affordable shipping rates and speedy processing times, you can expect your EHPlabs order to arrive at your doorstep in no time.
Exchanges & Returns

We're here to help make sure you're completely satisfied with your purchase from EHPlabs!

If for any reason you receive a damaged or incorrect product, simply let us know within 7 days of delivery and we'll be happy to replace it or refund your purchase price.You can start a return by emailing us at contact@ehplabs.com.

If you receive a defective or damaged item, don't worry! Just contact us right away and we'll work with you to evaluate the issue and make things right. Please take a photo of the issue so we can quickly resolve the problem.

While we're unable to accept returns on certain items, such as opened supplements, clearance items, loyalty points, and gift cards, we're always happy to help with any questions or concerns you have about your specific order.

And don't worry, we're always here to help with exchanges as well! Just return the original item and make a separate purchase for the new one.

We'll be sure to notify you once we receive and inspect your return. If approved, we'll refund your original payment method within 10 business days of receipt. If you have any questions about the process and if it's been more than 15 business days since your return was approved, please don't hesitate to contact us at contact@ehplabs.com.

We're always here to help.
Payment

Shopping has never been easier with our flexible payment options.

Choose from our range of convenient payment methods, including Buy Now, Pay Later services such as AfterPay, Klarna & PayPal.

If you prefer to pay on the spot, we also accept all major credit cards, including AMEX, Mastercard, and VISA. With so many options to choose from, you can shop with confidence and convenience.
OxyShred
Achieve your goals with this scientifically researched shredding formula containing proven ingredients that help promote fat loss, boost immunity and provide a natural energy boost. Oxyshred Ultra Concentration comes in delicious flavours for all tastes, and ticks all the boxes for those wanting to shred and reach their full potential!
Read more
Buy Now, Pay Later Options
4 Interest-free Payments
Pay every 2 weeks
4 Interest-free Payments
Pay every 2 weeks
4 Interest-free Payments
Pay every 2 weeks