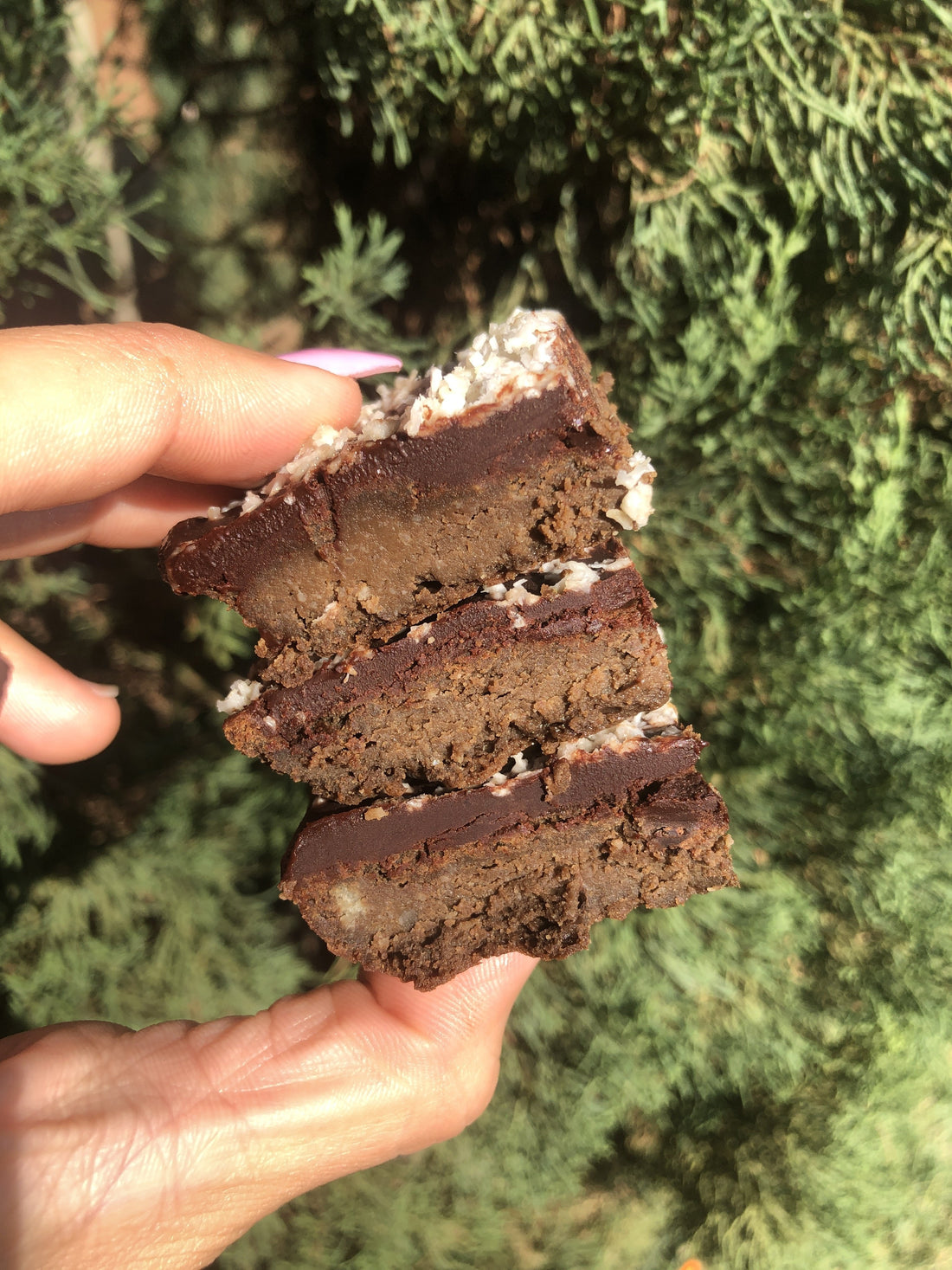 Back to blog
VEGAN FUDGE AVOCADO S'MORES PROTEIN BROWNIE WITH CHOCOLATE FROSTING
A perfect snack to cure those cravings, without compromising your diet. These S'mores Choc Fudge Brownies are the perfect snack and are loaded with protein, healthy fats, fiber and high in antioxidants.
This one is loaded with protein, healthy fats, fiber and high in antioxidants.
Here's what you need for this recipe:
2 ripe small avocados, pitted and skins removed (about 3/4 cup once pureed)
1/2 cup maple syrup
2 teaspoons vanilla extract
2 teaspoons instant coffee (optional)
3.5 ounces melted vegan dark chocolate
2tbsp ground flax + 6 tbsp water
1/2 cup S'mores @blessedprotein
1/2 cup almond flour
1/2 teaspoon Himalayan salt
1/4 cup chopped vegan dark chocolate chunks
To make chocolate frosting you need:
1/4 cup maple syrup
1/4 cup coconut oil
2 ounces vegan dark chocolate chopped
1/3 cup cacao powder
Method
1.Preheat oven to 350F and line 8x8 inch pan with parchment paper.
2. In a food processor, pulse together the avocado, maple syrup, vanilla, and instant coffee till smooth. Pour in the melted chocolate and pulse until creamy.
3. In a medium bowl, mix the ground flax and 6 Tbsp and let it sit for 5 min. Stir in the chocolate avocado mix, mixing until combined. Add the cocoa powder, almond flour, and salt. Stir until just combined. Stir in the chocolate chunks.
4. Evenly spread the mixture into the prepared pan. Bake for 32 minutes.Allow to cool before frosting.
5. Make the frosting, in a small saucepan, melt maple syrup, coconut oil and dark chocolate over low heat until melted and smooth. Remove from the heat and stir in the cocoa powder and a pinch of salt. Let the frosting cool, then pour/spread the frosting over the brownies and spread in an even layer. Place the brownies in the fridge and allow the frosting to set, 30 minutes to 1 hour.
6. Once set, cut into bars and serve at room temp. Keep stored in a cool, dry place in an airtight container for 2-3 day or freezer for 1 month.