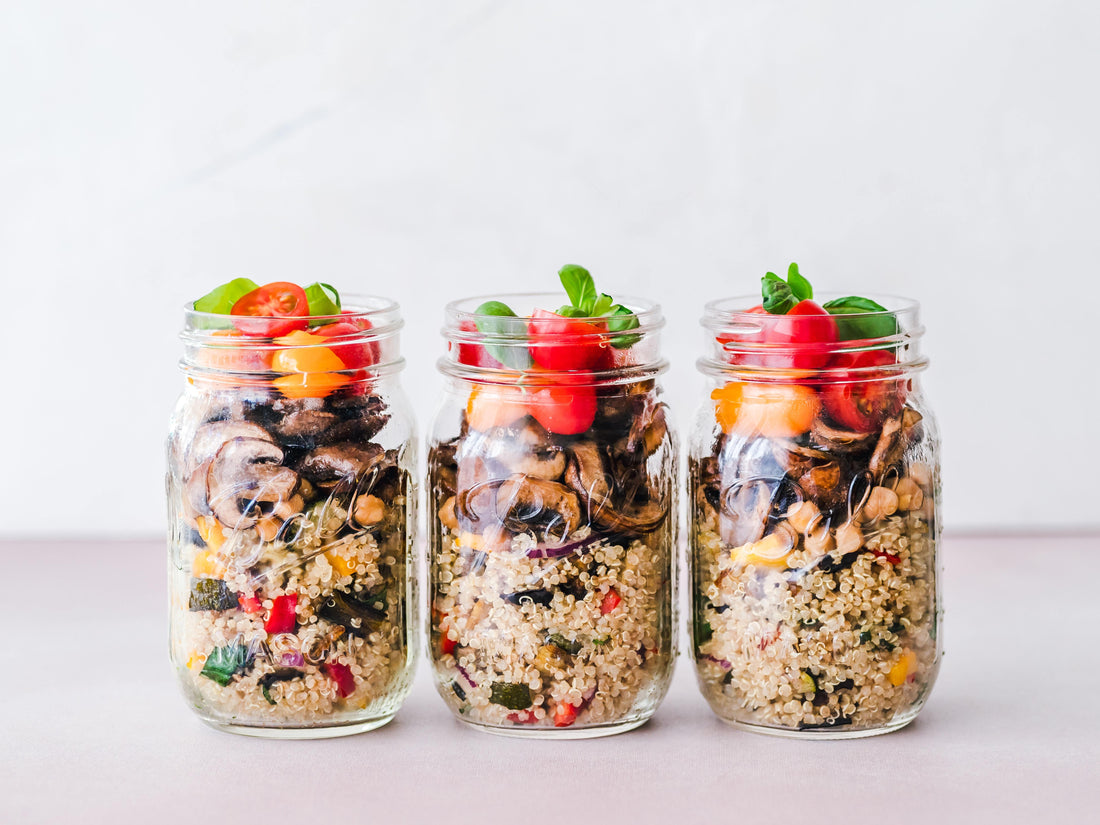 If you want to get the best from your training, you need to control the food you eat. That means more home-cooked meals, and fewer takeouts and restaurant meals. That way, you can precisely adjust your food intake to meet your goals.
However, unless you have a lot of free time, cooking all your own food can be impractical. That's where meal prep comes in.
By prepping your meals in advance, you can make sure you always have healthy food to eat. It saves time, and ensures that whatever you eat supports your training efforts.
Here are some quick and easy strategies for easier meal prep – no matter what your fitness goal might be.
PLAN YOUR MENU, WRITE A SHOPPING LIST, HIT THE GROCERY STORE
Prior planning prevents poor performance, and regarding nutrition, that means you need to know what you are going to eat well in advance. Plan your meals for the week, and then create a shopping list from your menu. Next, go and buy everything you need for your menu, or at least for the next few days. That way, you'll have healthy food in your kitchen to eat, you will have one less excuse for grabbing takeout or otherwise breaking your diet.
USE A SLOW COOKER
Slow cookers are the ultimate lazy food prep solution. Just toss some chicken or meat and veggies into a slow cooker, add some stock and seasoning, and then leave on "low" for 6-8 hours. You end up with a great-tasting meal that took no more than a couple of minutes to make. Eat one portion and save the rest for another day. Serve with some quick-cook rice or noodles if you need more carbs.
BUY PRE-WASHED SALADS AND VEGGIES
Washing and preparing salads and veggies can be a drag, especially if you eat them frequently – as you should! Save time by buying pre-washed, pre-prepared veggies. That way, all you need to do is open the bag and get eating. Frozen vegetables are also a good option.
BATCH COOK YOUR PROTEIN
Of all the foods you eat, protein is the one that tends to take the longest to cook. Chicken breasts, beef, pork, etc. all take time to prepare. You can save a lot of time by batch cooking your protein, so you have food for the next few days. For example, toss half a dozen chicken breasts in olive oil, herbs, and spices, and then bake them in the oven for 30-35 minutes. Eat one, and then keep the rest for another day. Combine with pre-prepared salad or veggies for an all-but instant meal.
If you don't have time to pre-cook your own protein foods, consider buying store-cooked chicken. Buy it on your way home, combine it with your pre-washed salad or pre-prepared veggies for a quick, healthy, meal.
COOK SEVERAL MEALS AT THE SAME TIME
When cooking, make several servings at the same time so that you can save some for later in the week. After all, it takes just as long to cook one meal as it does two or more. Put your spare meals on plates, cover with aluminum foil, and freeze them for another time. Then, when you want to eat them, just defrost and pop them the oven to warm through.
HAVE SMOOTHIES FOR BREAKFAST
Breakfast is the most important meal of the day. After a night of fasting, your body needs energy and nutrients. However, unless you like getting up really early, you probably don't have time to make a nutritious breakfast. Save time and still have a good breakfast by whipping up a smoothie and drinking it on your way to work.
Toss 1-2 scoop of protein powder into a blender, add a banana, some natural peanut butter or coconut oil, and maybe some dried oats. Pour in a couple of cups of water and add 2-3 ice cubes. Blend on high for 30-60 seconds and you are done!
BUY TUNA POUCHES, APPLES, AND OTHER SINGLE-PORTION FOODS
When time is short, even the simplest meal prep task becomes a pain in the butt, like opening and draining cans of tuna, or chopping up and peeling fruit. Save even more time, and control the amount of food you eat at the same time, by buying more single-serving foods. This strategy may also prevent overeating as you'll be more aware of how much you are eating.
PRE-PORTION YOUR SNACKS
If you eat nuts and other snack foods, it's all too easy to inadvertently derail your diet by eating too much. Fix this problem by separating your snacks into sensible-sized portions in advance e.g. 50-gram servings. This means you are much less likely to mindlessly eat too much, and you can just grab your pre-packaged snack as you leave the house. Ziploc bags are ideal for this purpose.
Organization and practice are the keys to effective meal prep. Initially, you may find meal prep a little tricky and inconvenient. But, the more often you do it, the easier it will become. After a few weeks, you'll discover what shortcuts work best for you, and then you'll be a time saving, healthy eating, meal prepping machine!