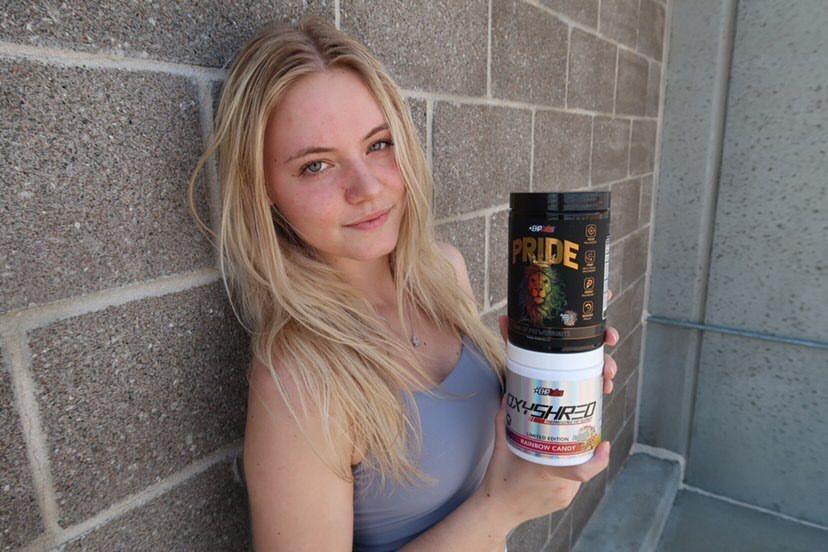 Back to blog
OxyShred vs PRIDE!
PRIDE or OxyShred? 

Which will be the perfect supp for you?
Ever wondered what the difference between OxyShred and PRIDE is? Read on below to find out which one is right for you!
Benefits of PRIDE
High Energy Sustained-Release Caffeine Blend
550mg of Pentaffeine allows for clean energy with a progressive 5-stage caffeine release process. Including caffeine anhydrous, infinergy, yerba mate, green coffee extract, and green tea extract. Incorporating different caffeine-containing ingredients which absorb at different rates allows you to ditch the caffeine crash seen with other pre-workouts! Pride will give you a solid dose of caffeine with 280mg per serving to give you the boost you need! Advantra Z is also included in the product and works synergistically with caffeine to stimulate the central nervous system (CNS) essentially making the caffeine more effective.
Pump Blend
We've used the newest technology and research to bring to you a pre-workout that delivers INSANE pumps without the tingles or jitters! Get ready for skin-splitting, off-the-bone PUMPS, and 'python' veins! Nitrosigine IHS, L-Citrulline & Betaine Anhydrous will assist your body to improve blood flow to muscles and vasodilation.
Super Focus Blend
We all know of the importance of the mind-muscle connection and Pride does not forget this! A super focus blend has been included in this product to give your brain the ultimate BOOST! If you're wanting to sharpen your mind while having the best workout of your life then PRIDE is the pre-workout for you! With Tyrosine, Taurine, Phosphatidylserine & Theobromine ready to amp up your workout.
EAA Blend
An industry first in a pre-workout! Who said your pre-workout can't help with recovery too? PRIDE has a BCAA & EAA blend to help prevent muscle breakdown, improve endurance and recovery.
Benefits of OxyShred
Feel The Burn!
OxyShred contains ingredients to assist  shredding more readily including Acetyl L-Carnitine, Garcinia Cambogia fruit extract, CLA, Grapefruit seed extract, Raspberry ketones, Mango seed extract, and Bitter orange fruit extract.
Ingredients that may help with appetite suppressing & craving reduction are included from the likes of Chromium Picolinate & Guggal extract to help you stick to a calorie deficit more easily!
Energy Booster
OxyShred will also give you energy but not to the extent PRIDE will. OxyShred (original) contains 150mg of caffeine making it around half the strength of PRIDE if you're looking at caffeine content! OxyShred however contains a variety of B vitamins as well as caffeine giving you natural energy & vitality.
Immunity Support
With Glutamine an essential nutrient for immune cells, Vitamin C an antioxidant nutrient & Olive Leaf Extract a herbal supplement to assist with immune support. Your immune health will be supported while still able to achieve your fitness goals.
Super Focus Blend
OxyShred includes Tyrosine, Taurine & Huperzine A which all help to support a healthy mood. We all know being in a shredding phase can make us a little more irritable or 'hangry' which is not pleasant for us or for the people around us! Why not let a product help to boost your mood & keep you feeling good throughout your calorie deficit phase!
FAQs of PRIDE vs OxyShred
What is the difference between PRIDE & OxyShred?
PRIDE is more suited to those who are looking for a high-energy pre-workout that can help increase focus during a workout & assist with recovery. This is a great product for those with muscle building as their main goal.
OxyShred on the other hand is more suited to those with shredding as their main goal while also still wanting to gain some energy, improve overall health and mood.
How much caffeine is in PRIDE vs OxyShred (original)?
PRIDE will provide 280mg of caffeine per serving while OxyShred (original) will provide 150mg.
Can you use OxyShred as a pre-workout?
Yes, you can! OxyShred actually works better if you take it before exercise due to the ingredients it contains. OxyShred also contains caffeine & B Vitamins so you still will get increased energy before your workout.
What if my goal is to gain muscle but I still want to shred, can I take PRIDE?
Yes, you can! PRIDE contains ingredients to assist with energy, increasing your PUMP, improve focus during a workout & assist recovery. As long as you are in a calorie deficit you will still lose fat even if you are using PRIDE as your pre-workout product.
Can I stack PRIDE with OxyShred?
It's not recommended to stack PRIDE with Oxyshred (original) due to the caffeine content. However, if you are still wanting extra shredding potential while still using PRIDE as your pre-workout you could stack OxyShred Non-Stim with PRIDE.
How many servings are in a tub of PRIDE vs OxyShred?
PRIDE comes with a 40 / 20 serving size option with 1 scoop lasting 40 serves & 2 scoops lasting 20 serves. This allows you to choose how strong you are wanting your pre-workout based on how much energy you need or how grueling your workout is!
OxyShred (original) comes in a 60 serving tub with 1 scoop lasting 60 serves. If you are wanting a stronger caffeine & shred product you can choose OxyShred Hardcore OR on the flip side if you are wanting no stimulants you could choose OxyShred Non-Stim which doesn't contain any caffeine.
Can women use PRIDE?
Yes, women can use PRIDE! PRIDE is designed for anyone wanting to fuel their workout, improve focus & bolster their recovery. The only time PRIDE wouldn't be recommended for women is during pregnancy or breastfeeding due to the high caffeine content.
So take your pick! PRIDE or OxyShred? Which will be the perfect supp for you?