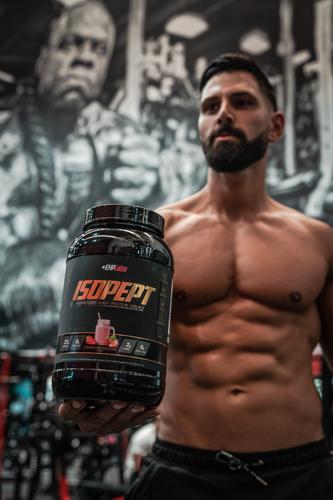 Back to blog
Are You Drinking ISOPEPT Post-Workout? You Should Be! Here's Why
ISOPEPT is your new and improved post-workout protein to
 immediately fuel your muscles with the critical nutrients for optimal growth and repair. We've also added the anti-bloating digestive enzymes along with essential vitamins and minerals to take your protein game up to new heights!
What is ISOPEPT?
ISOPEPT is your new and improved gym bro to help you reach your fitness goals with an asset in your corner! We've added in ingredients to take your protein game up to new heights. Feel fresh while working on building the physique of your dreams.
How is it different now?
ISOPEPT now includes ingredients that may help you de-stress, enzymes to assist with digestion and help keep you feeling light & free, and a vitamin and mineral complex to help you stay healthy making it the perfect post workout protein. We wanted to create a product that ticked all the boxes and that is what ISOPEPT is! Have you had a protein powder that works as hard as you do?
What does it include?
Super High Quality Protein (Non-GMO)
The protein content of Isopept has remained the same providing you with 27 grams of the highest quality protein from Whey Protein Isolate and Hydrolyzed Whey Protein Isolate. These forms of protein are premium, rapidly absorbed and nutrient rich sources of high quality protein peptide fractions to replenish your fatigued muscles with fuel for growth and repair.  Feel the gains, baby! This makes Isopept perfect for your post-workout shake!
Nervous System Support
Life is stressful so we've added in 100mg of Ashwagandha a herb to support a healthy nervous system and 100mg of Theanine. Theanine helps your body to produce more GABA, a neurotransmitter that can help you relax. A protein powder that can help you work on your body AND your mind...gimme some of that!
Digestive Enzymes
Protein powder can make some people bloated, sluggish, gassy and crampy. Not the desired outcome! We've thought of the potential issues and solved them for you already (we're thoughtful like that) by adding in digestive enzymes. Prohydrolase helps your body to break down protein, and lactase helps your body to break down lactose (contained in milk products). Say hello to protein powder that leaves your abs popping without the bloat!
Vitamin & Mineral Blend
We want your protein powder to work as hard as you do! You go to the gym to be healthy, so why not let your protein powder help you?? With a B vitamin blend to give you the energy and vitality you need. Vitamin C and Zinc to support your immune system and reduce severity of colds. An electrolyte blend including potassium, calcium and magnesium to assist with relieving cramps and rehydrate you post workout. Damn, I think this protein powder works out!
How does it compare to OxyWhey?
ISOPEPT is your ideal post-workout whey protein shake comprised of Hydrolyzed and Pure Whey Protein Isolate, which are the most premium,rapidly absorbed and nutrient rich sources of high quality protein peptide fractions providing your fatigued muscles with a direct source of fuel for growth and repair. Oxywhey is a good protein powder to take during the day or add to your meals as it includes fast and slower absorbed forms of protein sources which can help with appetite control during the day.
How does it compare to the market?
ISOPEPT combines both a rapidly absorbed form of protein and SO MUCH MORE! How many other proteins can you find that may help you manage your stress, relieve sore muscles, reduce bloating AND help you hit your protein goals? Probably none! We love taking our EHPLabs products to the next level. Why settle for subpar supps???
WPI vs WPC
What's the difference between Whey Protein Isolate (WPI) and Whey Protein Concentrate (WPC)? Both proteins will have beneficial effects, how you may decide between the two will be based on when you are intending to take them. WPI is best taken shortly after a workout as it is absorbed rapidly, making it a good choice for those wanting to refuel with protein straight after training. This assists with fuelling muscle growth and assisting with recovery. 
WPC is a great option to take when wanting to add a protein powder into a meal or is a good choice as a meal replacement or snack during the day, this is due to it being a slower absorbing form of protein. This means it will help us stay fuller for longer making it a great choice to add to meals or those in a calorie deficit.
Who is it for?
ISOPEPT is for anyone wanting to up their protein game while having an all rounder health & wellness supplement.
When to take it?
ISOPEPT is best taken within 45 minutes after a workout to help replenish protein stores. Isopept is best mixed with 240mL of chilled water!
How much protein is needed after a workout? 
The general rule of thumb is that 25 grams of protein is sufficient after a workout. Isopept has you covered with 1 scoop containing 27 grams of super high quality protein!
Why take ISOPEPT after your workout?
ISOPEPT is best taken after your workout to help refuel your muscles with a protein source. This will help your body to build muscle while also assisting with muscle repair meaning you will be able to recover faster and get back to training HARDER than ever!
How to stack it?
ISOPEPT can be mixed with glutamine or creatine post workout. Use EHPlabs OxyShred OR PRIDE pre workout, BEYOND BCAA + EAA intra workout and ISOPEPT Post workout!
Try ISOPEPT today to find out what the hype is about and taste the difference!